"I recently returned from the Roofing Industry's Annual Convention, and I wanted to share with each of you that John Gooding walked away with the JA Piper Award, the Roofing Industry's highest honor. I know he wouldn't be too quick to share this information, but I'll brag for him! John was thanked for his service to the industry as well as his service to the community. He was also recognized for his support and commitment to the love of his life, Mary Gooding, during her journey with Alzheimer's.
Congratulations Dad! This award is well deserved!"
-Reed Gooding, GSM Roofing President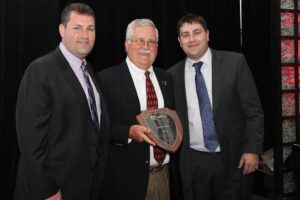 From the NRCA website:
2016 winner
69th Annual Piper Award winner—
John Gooding, chairman of the board for GSM Roofing, Ephrata, Pa.
Former NRCA President, John Gooding, chairman of the board for GSM Roofing, Ephrata, Pa., was named the 69th recipient of NRCA's J.A. Piper Award.
In addition to serving as NRCA's chairman of the board in 2003-04, Gooding served as NRCA chairman of the board—elect from 2002-03; vice chairman from 1997-1999; and as a director from 1989-92, 1994-96 and 1999-2002. He has been a member of many committees, serving as chairman of the Affiliate Relations Committee, Budget & Finance Committee, Convention Committee, Exhibitor Advisory Committee, Health and Safety Committee, Industry Advisory Board, Insurance Board of Governors, International Relations Committee, Long-Range Convention Planning Committee and NRCA/SPRI Liaison Committee, among other committees.
GSM Roofing is a member of The Roofing Industry Alliance for Progress.
Presented each year during NRCA's annual convention, the J.A. Piper award is the industry's most prestigious honor, recognizing roofing professionals who have devoted constant outstanding service to NRCA and the roofing industry.
(Photo Credit: NRCA Facebook Page)