Comprehensive Roofing Solutions for F&M College's Ben Franklin Dining Hall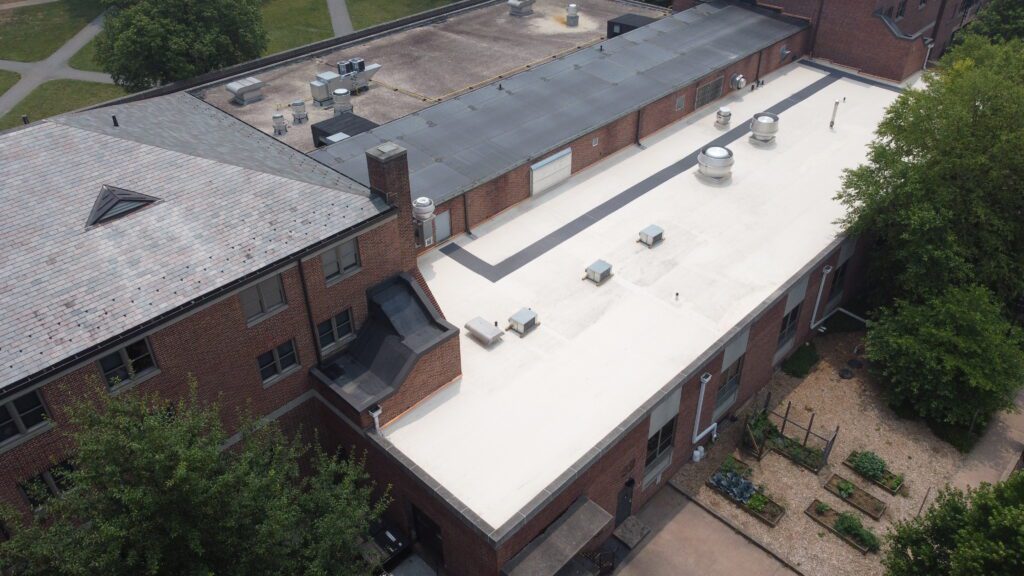 GSM Roofing Revamps Historic F&M College Dining Hall in Lancaster, Pa
Founded in 1787, Franklin & Marshall College (F&M) is a revered private liberal arts college located in Lancaster, Pennsylvania. With its rich history and commitment to academic excellence, F&M is an iconic establishment in the heart of Pennsylvania. As part of its ongoing efforts to maintain and elevate its historic campus, F&M entrusted GSM Roofing to breathe new life into the Ben Franklin Dining Hall's roofing system.
Project Overview
GSM, renowned for its deep-rooted expertise and innovative approach in roofing, undertook an extensive project to refurbish the roofing system of the historic Ben Franklin Dining Hall at F&M College. The step-by-step tasks accomplished were:
Priming of Structural Roof Deck: The entire structural roof deck was primed using the industry-acclaimed CAV-GRIP III.
Flat Polyiso Insulation: A substantial 6,556-sq ft. area was supplied with, installed, and adhered to 2-inch flat polyiso insulation using the state-of-the-art Flexible Fast low-rise foam adhesive.
Tapered Polyiso Insulation: A total of 493-sq ft. was enhanced with the 1/4-inch per foot tapered polyiso insulation, also using the Flexible Fast low-rise foam adhesive.
Carlisle's Fleece Back Tan PVC Installation: A significant 6,556-sq ft. area was bestowed with 060 Carlisle's Fleece Back Tan PVC. The team meticulously cleaned, primed, and welded all seams together to ensure longevity and durability.
Wall Flashing: The project saw the flawless flashing of 423 linear feet of wall, enhancing the structure's water-resistance.
Roof Infrastructure Enhancements: This included the demolition of two 2×3 Duct curbs and one 3×3 Duct curb. The infills for these were replaced with Zee & B-Deck. The team also handled the demolition of six rail curbs and three duck lines, with the RTUs being lowered to the ground on behalf of F&M.
Roof Flashing Tasks: GSM carried out flashing for multiple infrastructures, including two 2×3 GV curbs, one 2×4 Duct curb, and one each of 4×4 and 5×5 EF curbs. Additionally, heat venting stacks, field-wrapped pipes, penetration pockets, plumbing vents, and scuppers were flashed, emphasizing attention to detail.
Special Note on EF Curbs: The team acknowledged that kitchen EF curbs vent animal and vegetable oils, which could damage certain roofing membranes. Therefore, PVC, being compatible with these oils, was chosen as the ideal material.
Additional Installations: GSM supplied seven new splash blocks for upper roof downspouts and new treated 4×4 wood sleepers at five rooftop condensing units. This was complemented by the introduction of a 140-lf Cross Grip walkway path, 423 linear feet of 1/8 inch aluminum termination bar, 423 linear feet of 16-oz copper counter flashing, and 150 linear feet of 040 Kynar finished slip skirt counter flashing.
Advanced Infrastructure Implementation: The team fabricated and installed four 26-ga Stainless Steel soldered water-tight through-wall scuppers.
Warranties: GSM provided a 2-year workmanship warranty at no extra charge and facilitated a robust Carlisle SynTec 20-year manufacturer's warranty, underscoring their commitment to excellence and client satisfaction.
With each step meticulously thought out, planned, and executed, GSM showcased its capability to deliver top-tier roofing solutions, matching the prestige and history of F&M College's Ben Franklin Dining Hall.
The Challenges Encountered
A project of this magnitude came with challenges that GSM Roofing had to overcome:
Safely tearing off the existing asphalt BUR without contaminating the PVC.
Removing antiquated rooftop equipment and duct chases.
Overcoming the Challenges with GSM's Expertise
With GSM's unparalleled expertise and commitment to doing things the right way, the challenges were met head-on:
Using proper PPEs and advanced equipment.
Protecting the newly installed PVC with the latest innovations from Carlisle SynTec.
Noteworthy Project Statistics
GSM Roofing's choice of PVC membrane was pivotal, given its resistance to animal fats and vegetable oils, making it a suitable replacement for the failing pea gravel surfaced BUR roofing system. This keen attention to detail and forward-thinking approach exemplifies GSM's expertise in delivering solutions tailored to unique challenges.
Why GSM Roofing Was the Perfect Fit for F&M College
The intricate nature of the project made it a match for GSM Roofing's USPs: tackling tasks that are Dirty, Dangerous, and Difficult. GSM's track record at F&M speaks for itself, having replaced almost every roof in the original building. Bill Stark, the building manager, reiterates his trust in GSM, highlighting our unparalleled expertise and experience.
Conclusion
With the successful completion of the Ben Franklin Dining Hall project, GSM Roofing has once again showcased its unmatched expertise and commitment to excellence. Partnering with prestigious institutions like F&M College, GSM continues to set benchmarks in the roofing industry across Pennsylvania, Maryland, New Jersey, Delaware, and New York.
Contact GSM Roofing for your commercial and specialty roofing needs.