Zach Brooks – Employee Spotlight
Oct 03, 2019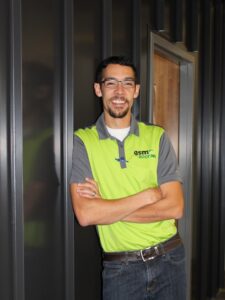 Service Sales / Estimator
Years of Service: 2
Pizza Topping: Supreme
"Take things one day at a time – enjoy the ride." This is the advice that our newest Service Sales/Estimator, Zach Brooks, would give to his younger self. And it certainly is something that he lives by.
Zach graduated from Lock Haven University with a degree in accounting. During his college years, he spent his summers working for a local roofing company. After graduating from college he worked as an accountant for 2 years before realizing that working indoors at a desk all day just wasn't for him. With those summers of roofing under his belt, he returned to the roofing field as a roofer for a short while with a career path to become a roofing estimator. This allowed Zach to use some of the business skills he developed in college as well as get outdoors for part of his work day. As a younger estimator, Zach excelled and GSM was lucky enough to welcome him to our family in 2017.
Zach describes one of the highlights of roofing estimating as a feeling of watching the show "How It's Made". As an estimator, he gets to go behind the scenes and see the inner workings of different industries. In fact, this is how he describes one of his favorite projects with GSM:
"First, they're mining and production processes are fascinating to me.
They have (2) 300' long rotating coal-fired kilns, which are 12' in diameter, constantly running at about 2300F, 24/7/365. It's kind of like an enclosed blow torch, except the nozzle is 4' wide and it sprays coal 200'. It was an incredible sight when I was given the opportunity to look into the kiln's observation port, for the few seconds I could bear it.
We have helped them resolve numerous roofing related issues, some they've been dealing with for more than a decade."
Zach grew up in the York and Lancaster areas. As a child, he wanted to be a race car driver. His love of cars as a child has become his hobby as an adult, he enjoys working on and restoring cars – Subaru's to be exact. His love for this make of cars runs so deep that he named his dog Subaru, Subie for short. He only ventures away from the Subaru brand when talking about his dream car, which is an Aston Martin DB9.
Other than working on cars, Zach enjoys spending time with his family. He and his wife, Danielle, have been married for 5 years and have a 2 ½-year-old daughter named Evelyn. As the dad of a young girl, he's watched a lot of Disney movies, and his favorite princess is Ariel.
With autumn upon us, town fairs are in full swing. The season has Zach thinking of fried Oreos (but definitely not funnel cake, you should ask him why) and his wife's homemade chili.